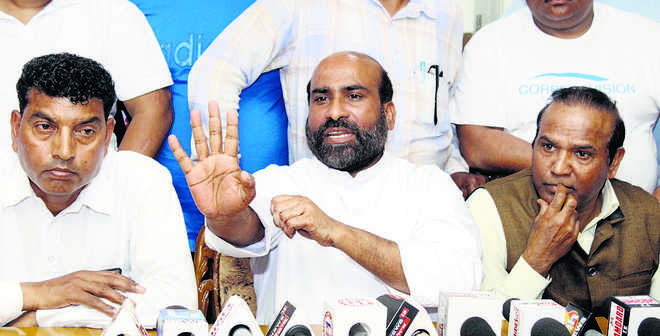 Deepkamal Kaur
Tribune News Service
Jalandhar
A raid by the Khanna police on Saturday evening has brought to light that four priests working under the Diocese of Jalandhar have been running an independent business with a turnover of Rs 40 crore.
Under the radar of the Income Tax Department, Bishop Franco Mulakkal's right-hand man Father Anthony Madasserry today revealed that he was running a business for taking contracts for sales of books, stationery, construction work and security services for private schools and this business was not related to the Church.
He said he was running this business along with three partners — Father Jose Palakuzha, Father Paul and Father Shine — under a partnership firm, Sahodhaya.
Father Anthony said the cash collected by the Khanna police, Income Tax team and Enforcement Directorate was the collection he and his partners had raised from the sale of books at 45-46 counters outside private schools of Punjab, including some convent schools. To a question on how priests could indulge in business, Father Anthony said, "I can avail all my civil rights. I have every right to do a business. No church has denied me this right. It is permissible as per the canon law."
He even compared his business with the Reliance Group: "It is just like what the Ambanis do. If it is security work, we call it Sahodhaya Securities." On whether they would pressure schools to buy books, he denied it, saying, "We just set up our counters. It is the parents' will to buy from us or from the open market. We are maintaining all books of accounts which we will present to the tax officials on April 3."
Yet another business of Father Anthony, Shine Coachings, is to run classes for entrance tests. Surprisingly, alongside this business, he also runs NGOs and trusts. Navjeevan Charitable Trust is for helping destitute women. His generalate houses a shelter for the disabled, being managed by another congregation, Friends of the Birds of the Air.
The I-T team suspects that he was routing the unaccounted cash earned from his businesses through these trusts and NGOs to convert them into white. Father Anthony, however, denied any allegation of possessing hawala or black money.
["source=tribuneindia"]